Helter Skelter: Saturday nights @ The Limelight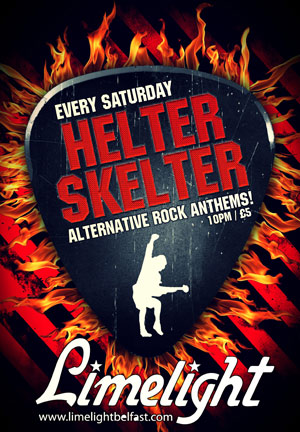 I was a fairly regular frequenter of the Limelight from 2000 – 2002, then I went off to uni and was an infrequent frequenter and then I was a 22 year-old sophisticate whose watering holes of choice were predominantly located in Cathedral Quarter so I became an even rarer frequenter of the indie disco palace of my youth (tho still taking in gigs in the Spring & Airbrake, natch). But this weekend Mr O was hitting a milestone birthday (to be delicate I won't say which but it's a milestone north of 25??) and we had to survey our options for a Saturday night of drinking, dancing and general revelry with friends. A few of our current favourites had to be stricken from the list since for some reason they were purveying Latin disco music and Euro house this particular weekend, and after some consultation with the posse we decided Helter Skelter at the Limelight it was.
The last time I was in Katy Dalys, the Limelight's sister and adjoining wood-panelled bar a stop off in which is an essential part of any Limelight night, was somewhere round November 2011 and there were dark mutterings regarding new owners and sacked DJs and bar staff. I have no idea as to the veracity of these particular rumours but if the hostile takeover rumours are true then the new owners have kept things according to the classic model 'if it ain't broke, don't fix it'. Katys was busy without being as crammed as it was wont to be of a Saturday circa 2007, which was one of the key reasons we stopped going, when it became impossible to get served at the bar or get a table. Last night things were lively, the tunes were great and the DJ took requests, much to Mr O's delight as he was aurally delighted by a spot of Therapy? on demand. The toilets were the usual slightly dingy, broken locks on the door treat as they have been in the past and always will be, world without end, amen. Rather horrifyingly, Katy's ran out out of Jagermeister by 11pm (ran out????) and, as well, the drinks prices appear to have kept abreast of changing times though the rest of the set up is permanently set to 2002-mode. A bottle of £4 white wine plonk and a pint came to £19.70, god save us and preserve us!
However, the Limelight itself was a monumental edifice of good times to be had, drinks promos (leading to some ill advised but very tasty shots of Morgans), DJs on a raised platform, faces illuminated by laptop screen glow, a heaving dance floor, tinnitus levels of tunes and, if I'm not mistaken, a shimmery fog of dry ice. The music was absolute belter tunes from our teenage years all night long played in a non-ironic, non-retro way – if there are indeed new owners and new DJs they must have been bequeathed old track lists by the last crowd, for which we are eternally grateful. You want Nirvana? You got it! Haven't heard Blink 182 in a club in a while? You will tonight! And how about some System of a Down? Certainly!
Have the crowd changed much? Hmm… yes and no. We were slightly concerned about being the oldest people there, but we definitely weren't though, of course, there was a healthy smattering of emo teens and enthusiastic plaid-clad students. Possibly because it was a bank holiday weekend, a lot of the student contingency had returned countrywards for the weekend, explaining the relative lack of crowdedness, fist pumping and/or headbanging. But judging by the vintage of the music and the clientele who seemed to be regulars, the Limelight is no longer solely the domain of the obscenely young, hip and trendy and I mean this in a good way – about 3 or 4 years ago you couldn't get near the bar / toilets / dancefloor without tripping over a veritable herd of city short  clad south Belfast teenagers and young rugby players in pastel coloured shirts while the music featured decidedly non-indie disco pop and r&b tracks. The horror, the horror.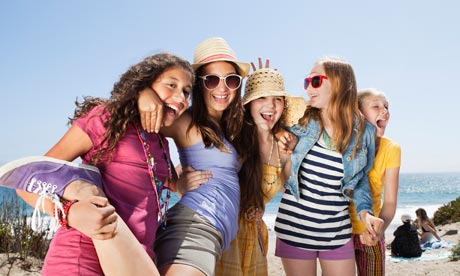 Helter Skelter is, thankfully, back to catering towards its faithful customer base of converse clad (though I will admit was a south Belfast mum in high heels and a dress last night – hypocrisy thy name is W[r]ite Noise) enthusiastic grunge fans and hard-liqor drinkers. And it's all the better for it.
So while for originality I may have to demur to award a score, for an all round great night, replete with drinks promos, floorfillers and very friendly and obliging door and bar staff it's a 9/10 (fix the locks on the girls toilets and stock more Jagermeister and we'll talk about a perfect 10!)